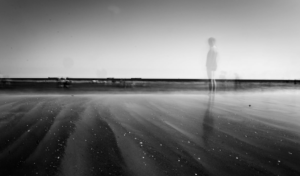 Karolina Nowosielska was born in 1983 in Giżycko, Poland. She currently lives and works in Ålesund, Norway. Karolina is a fine art photographer with a great affection for symbolism and expressionism.
Since her early childhood, Karolina's artistic sensitivity and creative approach have been intensely shaped by the dark and mysterious beauty of The Masurian Lake District along with the dramatic history of that region. Lost heritage, continuous search for cultural identity as well as the womanly archetype in nature have been the leading motives in her artistic pursuit. The eternal feminine has been Karolina's major source of inspiration and it has been consistently featured in all her visual projects.
In 2014 Karolina has graduated from the Sopot Photography School, where she received a diploma with distinction for her series "Fluctuation". Moreover, the artist has earned master's degrees in Nordic Studies and German Philology, which gave her a strong academic background. Karolina's portfolio encompasses several prizes in photo contest, publications, as well as individual and group exhibitions in Europe and Asia.